Service Area
On Time Recovery & Towing provides service in the the Greeley, Colorado area, reaching at least 50 miles in most directions.  We have provided our covered cities & zip codes below.
With cities around us such as Denver & Fort Collins near by, we are well located & provide prompt service when needed.
Want to know more about our services?
24 Hour Towing
Repossessions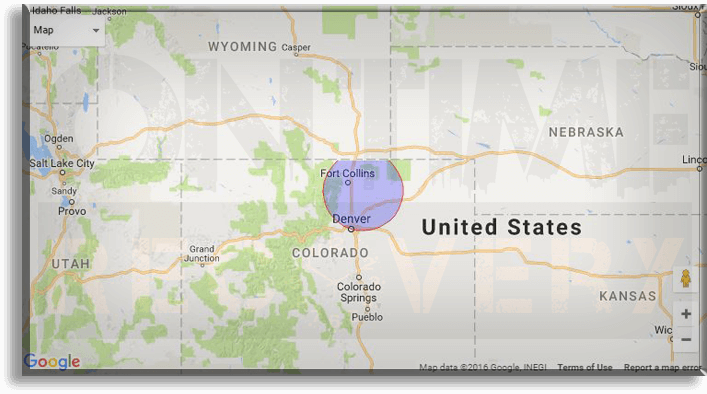 Coverage Area Verification:
A through K Serviced Cities
B Cities
Berthoud, Briggsdale, Brighton, Broomfield
C Cities
Carr, Cheyenne, Commerce City
D Cities
Dacono, Denver, Drake, Dupont
E Cities
Eastlake, Eaton, Erie, Evans
F Cities
Firestone, Fort Collins, Fort Lupton
Fort Morgan ,Francis E. Warren AFB, Frederick
G Cities
Galeton, Gilcrest, Gill, Greeley
Grover
H Cities
Henderson, Hillrose, Hudson, Hygiene
L through Z Serviced Cities
L Cities
La Salle, Lafayette, Laporte, Log Lane Village
Longmont, Louisville, Loveland, Lucerne
M Cities
Masonville, Mead, Milliken
W Cities
Weldona, Wellington, Westminster, Wiggins
Windsor
Covered Zip Codes
80000 Through 80299 Zip Codes
80001, 80002, 80003, 80004
80005, 80006, 80019, 80020
80021, 80022, 80023, 80024
80026, 80027, 80030, 80031
80035, 80036, 80037, 80038
80041, 80045, 80047, 80205
80207, 80216, 80221, 80229
80233, 80234, 80238, 80239
80241, 80249, 80260, 80266
80300 Through 80599 Zip Codes
80301, 80303, 80304, 80305
80306, 80307, 80308, 80309
80310, 80314, 80501, 80502
80503, 80504, 80513, 80514
80515, 80516, 80520, 80521
80522, 80523, 80524, 80525
80526, 80527, 80528, 80530
80533, 80534, 80535, 80537
80538, 80539, 80541, 80542
80543, 80544, 80546, 80547
80549, 80550, 80551, 80553
80600 Through 82300 Zip Codes
80601, 80602, 80603, 80610
80611, 80612, 80614, 80615
80620, 80621, 80622, 80623
80624, 80631, 80632, 80633
80634, 80638, 80639, 80640
80642, 80643, 80644, 80645
80646, 80648, 80649, 80650
80651, 80652, 80653, 80654
80701, 80705, 80722, 80729
80733, 80751, 82001, 82005
82007, 82010